News & Trends
The Wind Is in Europe's Favour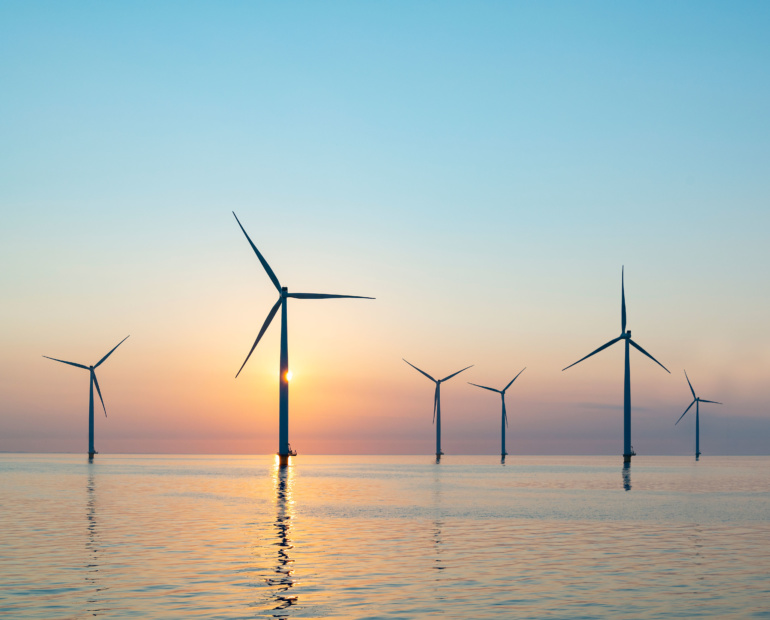 A FRESH START FOR THE ENERGY TRANSITION — Stormy times usually don't bring good news, but that could change with the planned mega power plants in the North Sea.
Alongside the sunny prospects of solar energy, wind power will be another cornerstone of the energy transition — which now urgently needs to be ushered in on a grand scale. While the true extent of energy dependencies has only become apparent in recent months, the negative impacts of fossil energy sources have been known for some time. Oil, gas, coal, etc. are mainly responsible for climate change. The term energy transition was introduced back in the 1980s to minimise carbon emissions and conserve resources — the dream of a sustainable energy supply. However, the metamorphosis towards alternative energy is far from complete, as the faltering development of the past few years shows. Although the share of renewable energy in global electricity production increased by 7 percent between 2015 and 2022, the total is only 12 percent. In the EU, this rate looks somewhat more respectable at 22 percent (an increase of 9 percent), but it must nevertheless be improved rapidly if we are to achieve the ambitious climate targets. The North Sea in particular offers great energy potential for this — which could finally be exploited now.
2050: wind power plant in the North Sea to produce approx. 260 GW electricity for approx. 200 million households
Wind of Change?
Soft soils, relatively shallow water depths and strong winds: the North Sea is made for modern wind farms. Thanks to technological progress, wind turbines are becoming more powerful and submarine cables more efficient, which is why the idea of the North Sea as a "green power plant" should no longer remain a utopia. A group of nine neighbouring countries is planning an offshore wind power plant with a capacity of 260 gigawatts (GW) — almost five times as much as is produced worldwide today and enough to supply almost 200 million households in Europe with electricity. What sounds like a potential game changer could be just that. Economic historian Nikolaus Wolf is certain: "Energy in abundance attracts industry." A new coastal economy could emerge: local companies that used to supply the offshore oil and gas industry have now shifted their focus to environmentally friendly customers. Nordic countries are increasingly attracting energy-hungry battery plants and data centres. On the German North Sea coast, there are plans to build plants that convert ammonia into hydrogen, which is easier to transport and supplies factories in nearby industrial parks. Even parts of steel production could shift north if hydrogen replaces coal or gas in the manufacturing process. But not only electricity and hydrogen will flow through the seabed highway, CO2 will also find its way there. The carbon dioxide from sectors that are difficult to decarbonise can be pumped into depleted gas fields. In Rotterdam, the "Porthos" project is intended to advance this type of carbon capture and storage (CCS).
When a Real Design for the Future Emerges from Sustainable Transformation
"Dogger Bank" is the name of the largest offshore wind farm to be built off the east coast of England. Compared to conventional turbines, these are expected to produce a third more energy and supply a total of 4.5 million house holds with electricity. The project is a cooperation between companies and energy groups from France, Great Britain and Norway and is symbolic of the green spirit of optimism on the high seas. The North Sea energy system could therefore grow into a veritable archipelago in the future. Ambitious companies are already positioning themselves and investors are recognising their opportunities. For example, the world's largest turbine manufacturer, Vestas, is closing a plant in China and setting up shop in the north. The Danish company Topsoe also states that its orders already amount to 86 GW of green energy. If cooperation between countries continues to succeed and bureaucracy does not slow down the pace, this project could drive green business giants in Europe. This powerful joint project also has the potential to serve as a pioneer for other parts of the continent, such as the Iberian Peninsula with its huge solar potential.
"Dogger Bank" to produce 1/3 more energy than conventional turbines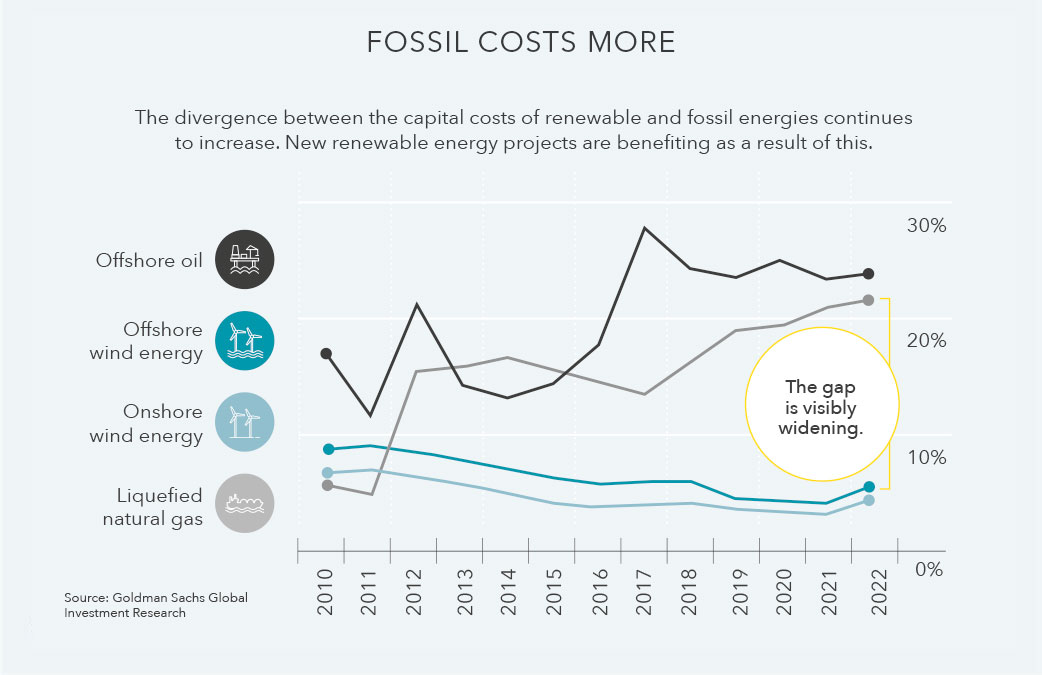 THE GLOBALANCE VIEW
The capital markets are ahead of politics: in the energy sector, the spread between the cost of capital for oil and gas projects (today around 20% p.a.) compared to renewable energy (today around 5% p.a.) has widened by more than 10 percentage points over the last five years. This in turn leads to a historic turning point in energy investment: for the first time, more capital was invested worldwide in the production of renewable energy than in the extraction of oil and gas in 2022.
Would you like more stormy readings? You will find more exciting topics in our Zukunftbeweger magazine.