Awards & Auszeichnungen
Again in 1st place: Globalance awarded the title of "Grandmaster"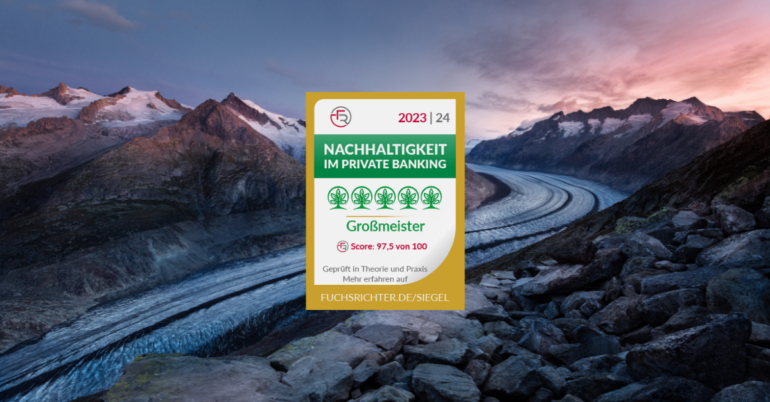 GLOBALANCE ONCE AGAIN IN FIRST PLACE: AWARDED AS "GRANDMASTER" IN THE FIELD OF SUSTAINABILITY BY THE RENOWNED FUCHS | RICHTER TESTING INSTITUTE!
For the second year in a row, Globalance has been positioned at the top of the podium in the area of sustainability by the renowned FUCHS | RICHTER auditing body. With an impressive 97.5 out of 100 points, Globalance not only improved on the previous year's performance, but also maintained a market-leading position among the banks evaluated. Globalance's consistency and commitment to sustainable private banking continues to set the standard.
What contributed significantly to the award
The FUCHS | RICHTER test authority emphasizes Globalance's consistent focus on a sustainable future. The test client emphasizes that sustainability was not only discussed centrally, but also presented in an outstanding manner. Through innovative measures such as the introduction of "Swiss Climate Scores" and the use of patent data, Globalance sets industry-wide standards. Careful selection of personnel and regular training ensure that the consultants are excellently trained.
The conclusion of the auditors is as follows: "Globalance continues to lead the way in terms of sustainability in private banking. The Swiss grandmaster remains ambitious in its plans and qualitative development and the benchmark for the overall market in this segment of private banking and wealth management."
How does FUCHS | RICHTER evaluate?
The FUCHS | RICHTER rating measures the quality of banks in the context of sustainability in private banking. Core criteria such as corporate orientation, employee development, customer advice, product diversity and customer orientation play a role. Particular emphasis is placed on the importance of individuality in private banking; each client has unique values and expectations that should be taken into account and implemented.
For more details on the evaluation criteria, click here (only available in German). In addition, you can view Globalance's detailed strengths and weaknesses profile below.
Want deeper insights and understand what's behind this award? Read the full report (only available in German) for detailed information an