News & Trends
The Virtual Parallel World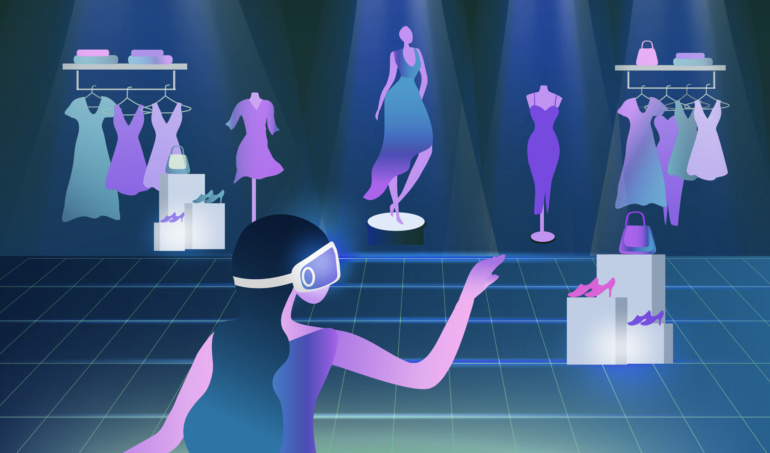 Hype or Here to Stay?
Just over 30 years ago, the internet was first released for commercial use. For many of us, not so long ago. From a digital point of view though, it is at least a leap back to the Middle Ages. Because there are technological quantum leaps between the unpleasant modem noise when dialling in from the 90s and the emergence of virtual parallel worlds.
An attempt was already made to build an online world with Second Life in 2003. But during that Sturm und Drang era, to remain in the context of digital ages, the technological equipment was still lacking. In the meantime, the toolbox to build the metaverse is well stocked. Blockchain technology as a digital land register, VR solutions for a realistic experience, NFTs as a kind of digital proof of ownership and virtual coins as a means of payment all ensure a better chance of success today.
Will the Metaverse Boom Continue?
The gaming industry has been breathing life into digital parallel worlds for quite some time. The online platform Roblox already has 164 million active players per month. But in future, we will not just want to play in virtual worlds, but also live, shop, meet friends, stroll through galleries and visit fashion shows there. According to the Boston Consulting Group, the global market volume for virtual reality applications and devices will increase tenfold to USD 297 billion in the next three years. The global metaverse market is even expected to grow to USD 758.6 billion by 2026, according to a forecast by Global Industry Analysts.
So it's hardly surprising that there's a real gold rush mood at the moment. On the two largest 3D platforms, Decentraland and Sandbox, virtual plots of land are currently being sold and investors are paying a lot for them. Recently, a piece of "land" was acquired for the record price of USD 4.3 million in Sandbox.
As in real life, the location is crucial and that's why the big players are already getting involved. Adidas bought a plot of land last year and Nike also needs virtual shop windows in prime locations for its metaverse trainers – because apparently you have to be chicly dressed there too. "Clothes make the man" obviously becomes "Clothes make the avatar".
The art world has also apparently mastered the metaverse with flying colours. The auction house Sotheby's opened a branch in Decentraland and sold an NFT for USD 500 thousand.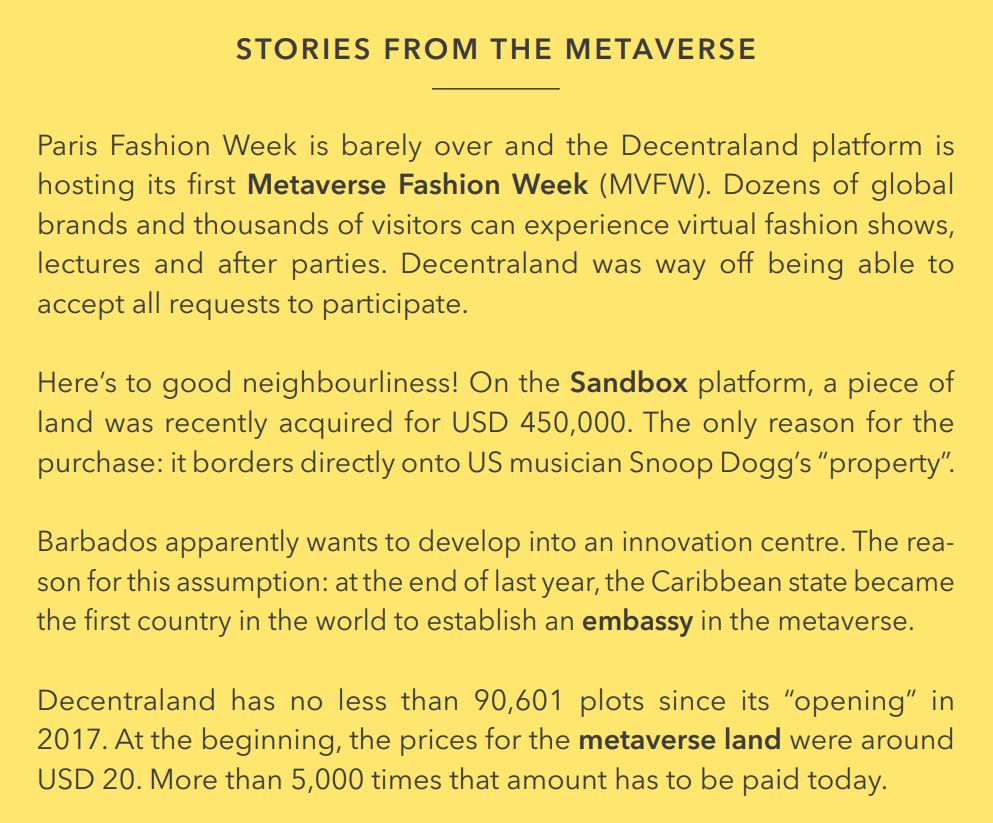 A Somewhat Different Shopping Trip
Physical distance does not exist in the metaverse. You can meet up with friends and stroll through virtual shopping centres with them without having to be in the same place. Your personal avatar can try on clothes and get advice from acquaintances who are actually far away. If you like exclusivity, take a look at the startup The Dematerialised. The Dutch virtual couture brand Fabricant has already sold a virtual garment for EUR 9,000 on the platform for digital luxury products.
However, these are by no means material items of clothing or accessories that you can physically wear. Only your virtual self can adorn itself with this new property. You consequently buy computer files, so-called NFTs, whose authenticity is verified by the blockchain. What may sound strange is nevertheless being well received. Companies like Republic Realm, which recently bought into Decentraland, are building a digital shopping centre called Metajuku. Inspired by Tokyo's Harajuku district, which is known for edgy fashion, a digital retail space is being created over 16,000 square metres. Payment is by virtual coins. Each platform uses different metaverse tokens such as MANA tokens or the cryptocurrency SAND.
A virtual garment has already been sold for EUR 9,000.
As the Number of Visitors Rises, the Chances of Success Increase
The metaverse is still a phantasm for many. And in the eyes of investors, it is precisely this that might lead to success. For companies, a huge playing field has been created, inviting them to plant new business models. If more and more visitors use the metaverse as an additional space for work and leisure, functioning economic systems may emerge. According to experts, trade between the "different" worlds is also conceivable.
The Metaverse Vocabulary
Metaverse
A digital space that is created through the convergence of virtual, augmented and physical reality.
Metaverse-Token
Purchases are made with these coins (cryptocurrencies) in virtual worlds.
Non-Fungible Token (NFT)
A tamper-proof, non-exchangeable digital asset. The token stored in the blockchain makes it unique, unchangeable and traceable.
Blockchain
The decentrally organised database continuously registers information that is stored in data blocks. The fixed data blocks cannot be changed or deleted.
Virtual Reality (VR)
An artificial reality created by special hardware and software.